The world according to Abel: Secret Prison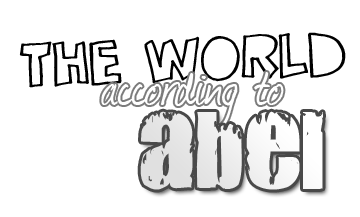 Time after time, I think 'what's the use'?
How can anyone hear anything I say?
My voice shall fade away like everything else I thought this school meant to it's students.
I will put on my cap and gown and slowly lay down with my classmates to be buried deep in the ground to be walked on by society.
I like to see the happy side of life, but when I walk through the school doors, I can't help but feel like I'm walking through the doors of a detention center.
So much of our teenage years, when we become ourselves and find our place in this world, is spent here among the teachers who are our second parents and friends who are like our siblings.
I know that this is a place for learning, but this is also a place where most of us discover ourselves and our futures. High school should be a place were we are able to unleash our inner- personality instead of a place where enslaved, alienated students walk the hallways. The walls that surround us everyday at school help to create what some of us call a second home; a safe place from the storm of life, but this shelter has become a nightmare.
I see all my fellow students screaming on the inside because of the entrapment here that's killing them each day. I'm tired of it. The price is set on our heads each day where we lose all of our freedoms and submit to the spectacle and the charade of high school life.
I once thought my senior year would be fun, but I can't help but be silenced because of how I dress, how I speak and how I simply live my life. I dread walking down the hallways to see my fellow students lined up like pigs to slaughter because they don't have a belt or because they were mere seconds from getting to class.
The poor teachers forced into submission for fear for their jobs have no choice but to do the wrongs thrusts upon them.
Each-day I wake up, I tell myself it's just one more day to cross off till I'm gone, but honestly should school be a place that students hate so much that we can't wait to leave?
Out of all the negatives about this school the teachers are who give me the hope I need throughout the day. I can't imagine even staying enrolled here unless I got to see the teachers that make my life worth living.
Some many times, I walked into class crying and my teachers were right there to listen and give me light through my clouded teenage years. My teachers were there when my loved-ones passed, when my heart was breaking, and when I thought my future was gone. If more teachers actually cared about their students like mine do this heartless building might show us students that someone does care about them.
Things need to change. The drop-out rate is rising and teachers along with students are giving up. The administration wants the school to be a safe place for us, but when they restrict us all that does is bottle our rage. When we get older and our children start school we will look back to the past and remember how much we dreaded school and our children will see that and slowly have the same attitude.
They think that by making us dress more professional and pass standardized testing they are getting us ready for the real world. You can be as prepared for employment, bills, and banking accounts all you want, but it's the relationships with people that will be remembered. If the system worried more about the student's lives instead of tests maybe the school would be a better place, and thus a better world.
Your donation will support the student journalists of Bryan High School. Your contribution will allow us to purchase equipment and cover our annual website hosting costs.