Wrestling team wins district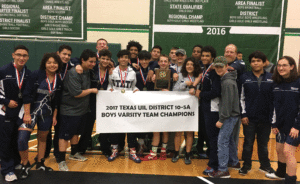 The wrestling team competed in the District 10-5A Championships at Huntsville High School on Saturday where they advanced every varsity boy and girl entered at district to the regional tournament.
The boys varsity won the team title with 236 Points. Consol had 196, Rudder 158, CSHS 140, Waller 132, Huntsville 117 and Cameron 35.
The following wrestlers earned medals:
Gold:
Larry Duron (120), Caden DeJesus (126), David Frazier (145),and Jamarcus Thomas (170)
Silver: were earned by: Andres Gonzalez (113), Dustine Korzynski (138), Caden Scott (152), Kairo Turrubiartes (160)Monyell Nutall (182), and Dequinnce Hill (195).
Bronze: was earned by Spencer Pierce (132).
4th: Kevin Duron (285).
Three girls competed in the tournament and all 3 placed and qualified for regionals.
Teya Villalpando (128) took Silver
Makia English (148) took Bronze
Mikayla Hodnett (138) took 4th