Taking the cloud by storm
In a new shift in technology policy, students will receive Google accounts for email, calendaring and other online services. The new Google Apps accounts will replace student First Class e-mail accounts this school year. The change was made to improve the way students can use technology for educational purposes.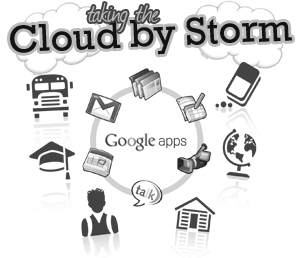 Easy to Access
Google Apps can be accessed from any computer with an internet connection. Email, Google Docs and other apps do not require the purchase of any other software or installation. This also reduces the need for email attachments (documents can be shared instantly) and completely eliminates the prob- lems created by trying to access files with different versions of a particular software.
Global Collaboration
Students are able to collaborate on documents without be- ing in the same room as others in their group. Documents are updated in real-time and allow for communication across any distance and provide a log of revisions so others can see who and how documents have been changed by others members of the group.
Increased Email Storage
Students were limited to 25MB of data with FirstClass (about the size of 20 digital pictures). With Gmail, student accounts will increase to 25GB of data (about the size of 7000 digital pictures).
Privacy and Security
Although students will be up-loading their work to Google servers, they will still own and control all content. Google does not share or look at any user generated content. In addition, because BISD has partnered with Google through Apps for Education, information up-loaded to the servers will not be shared with Google's advertisers and all content will be secured.
Fiscally Smart
With the reduction of technology staff and budgets through- out the district, Google Apps for Education helps BISD continue to meet the needs of students by providing email and storage space for free while remaining secure, available and reliable.
Leave a Comment
Your donation will support the student journalists of Bryan High School. Your contribution will allow us to purchase equipment and cover our annual website hosting costs.