New superintendent brings leadership, perspective to difficult school issues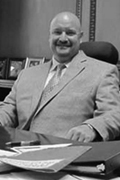 Students may not start classes until August 22, but for new Superintendent Thomas Wallis, preparing for the school year began on July 1.
Wallis, the former Superintendent of Palestine ISD, began reading about the new superentindent's job in mid-Spring, as it appeared in postings on Texas Education websites, but hadn't initially considered applying for the position.
"I went 'wow, this is a pretty cool school district. This district has a great deal to offer for kids' but, I thought, 'No, I need to finish what I started in Palestine'," Wallis said. "I'll be derned if that very day the phone doesn't ring and it's the head-hunter in charge of the search for Bryan ISD's superintendent."
Although Wallis said he was interested in the opening, he was uncomfortable leaving Palestine ISD after three years, because that district was in the middle of finishing a series of construction projects.
"My wife told me, 'If the door's open, walk through it, and if it's supposed to shut, it will,'" Wallis said. "I called [the head-hunter] back and told him I'd put my name in. The rest is history."
As a parent of two children, an educator, and, now, superintendent, Wallis said he's impressed with the variety of programs offered in the district.
"Bryan ISD has some of the best programs in the nation," Wallis said. "You've got just about everything that a student needs to be successful. If you're not involved in Bryan ISD, I don't see that you can be involved anywhere, because there's something for everyone here."
ON THE ISSUES
Dress Code
With the school board's decision to change the district dress code for the 2011-2012 school year, many attributed the change to Dr. Wal- lis, but he says he had no initial plans to modify the dress code.
"My initial plan was to not do anything with the dress code my first year," Wallis said. "Now, I support the dress code. I support the dress code 100% and we're going to enforce it."
The new dress code was developed and pro- posed by a committee that the district formed before Wallis was considered for the position of Superintendent.
"I've heard a lot of people say we're not going to en- force it, but watch and see beacuse we will enforce it," Wallis said.
STAAR Test
For the first time, students across the state will be required to take the STAAR exam, which replaces the TAKS as the statewide assessment.
Wallis says he disagrees with the decision to change the assessment.
"I'll support the STAAR test," Wallis said. "But the reason I disagreed with it was that in a financial crisis, this was the wrong time to implement a STAAR test."
A new exam, Wallis said, requires more money for teacher training and exam consultants for the district.
"To give another assessment in the same year that they're taking money and resources away makes it very difficult on a teacher," Wallis said. "If a teacher doesn't feel comfortable, the kids aren't going to do well."
Budget Cuts
In the most recent session of the Texas Legislature, a cut CUTS of $4 billion dollars to public education was approved.
To deal with this change, Wallis said that the district, along with other districts across Texas, will be forced to make difficult changes.
"We're going to have to learn, in Bryan, to live within our means. With public education, with government, we all have to live within our means." Wallis said. "That will be the subject of some of the conversations we're going to have in the next year or so."
Such conversations the district will be having to find possible extraneous expenses include looking at existing district programs and asking, "How many kids does this program serve? How much does it cost?".
Wallis said that he wants to be able to offer as many classes as possible, but will possi- bly have to cut electives that are less popular amongst the student body.
Although Wallis said he feels the cuts were wrong, he will support the decision of the legislators.
"As a public educator, I disagree with the cuts being made to education," Wallis said. "But, I went to some sessions in Austin and I sat in the chamber room and I heard them speak, and they've got some valid arguments."
For the 2012 Fiscal Year, using prior-year funding formulas, it is estimated that Bryan ISD will lose $5,861,888 in state funding.
In becoming adjusted to the new school district and the programs it offers, Wallis says he also appreciates the resources, like Texas A&M University, available to students and the diversity of the community.
"What's not to want to be here? There's a lot of great things in Bryan," Wallis said. "It's not a homogeneous school district where everyone's alike. It's got diversity. Diversity's a great thing because you get to learn about different cultures, about other ways of living, other belief systems, and it opens your mind. I think diversity should be celebrated."
A part of this diversity is the wide array of opinions and perspectives that community members have, which Wallis says the district will use and welcome.
"You've got poverty, you've got single-parent families, you've got the affluent, you've got the well-educated, you've got those that are working three jobs to make ends meet," Wallis said. "We all have differences of opinion, and in Bryan, we're going to embrace those. We're going to do the best job we can to do what's best for the kids."
One such way Wallis plans to incorporate these differing opinions is through parent, faculty, community member and student committees.
"I've always found it interesting that we bring in teachers, we bring in community members, but we don't ask kids a lot of the time," Wallis said. "I plan on working with student advisories and councils that will come to me occaisionally. I want to hear what's going on at Bryan High School."
Wallis doesn't just want to hear what's going on at each school though, he wants to see it and be apart of it himself.
"My goal is to be in every classroom in this district before Christmas Break, which includes all 23 schools, every single class. I want to meet every single teacher by the time Christmas rolls around," Wallis said. "So, I'll be at your school a great deal, you'll never know what door I'm going to walk in. It may be the back door, it may be the front door, it may be the cafeteria.
It's not an 'I gotcha!'. It's that I want to know the people in the district. I want to get to know the kids. I want to know what makes them tick."
Equipped with an iPhone and iPad, Wallis says he's taking advantage of modern technology to allow him the ability to be on school campuses and remain in-touch with administrative personnel throughout the district.
"I'm going to walk around and I'm going to go from class to class," Wallis said. "Students may not know my name in a district this size right off the bat, but they'll know that the big bald-headed guy is the superintendent."
One of the things Wallis says he's not interested in doing, however, is making changes for shock-value.
"For any leader to come in and just start making changes for change's sake is wrong," Wallis said. "I was told one time by one of my mentors that there are fences built for a reason and before you tear them down, find out why they were built."
Although the public education system is facing many cutbacks, Wallis says he is excited about the potential he sees in the district.
"What I do believe is that if Bryan ISD employees and Bryan ISD students and Bryan ISD community members will sing the praises of Bryan ISD, and talk about all of the great things in Bryan, then I think Bryan will be known not just state-wide, but will be known nationally," Wallis said. "I think there'll be people flying in to find out what Bryan ISD is doing. It's real-world America."
Leave a Comment
Your donation will support the student journalists of Bryan High School. Your contribution will allow us to purchase equipment and cover our annual website hosting costs.