Snapping into rhythm, student remains centered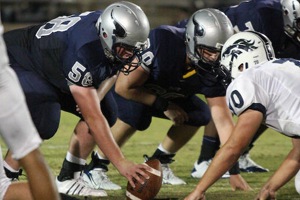 Under the glow of the stadium lights and with the roar of the crowd behind him, senior Lance Graul can be seen each Friday night snapping the ball into play for the Vikings and marching alongside the band.
Yet, for Graul, the work doesn't begin on Friday nights.
Graul has been playing football for ten years, and his experience shows through his hard work on the field.
"He always strives to put his best foot forward," offensive line coach Robert Jesurun said. "On the field he takes it one play at a time and always realizes the total concept of what we are doing."
As a team member, Graul communicates well with his peers and is respected by them.
"He's a great leader on and off the field," senior Paul Silva said. "I know all the offensive linemen look up to him."
While his teammates and coaches see him as a hard-working, successful football player, Graul also excels in the academic aspect of life. Even with late night games, band practice, and other responsibilities to uphold, Graul stays on top of his school work.
"It's hard to balance football and schoolwork, as I'm also in NHS, Band and Track and Field," Graul said. "Even though it's hard, taking part in band and football is extremely fun and worth it."
For most students, balancing many activities is overwhelming and keeping up with grades can be difficult.
With band and football happening simultaneously on Friday night, and not to mention overlapping practices that cause him to choose which practice to attend, Graul has several obstacles to overcome.
"His best quality is his determination to get better. Since he has football and band, sometimes he doesn't learn the drills, but he devoted himself to come after practice and learn it; now he has it down," drum major Denzel Brown said.
These compromises for time in extra-curricular activities also affect external areas.
"It makes my mornings early and my nights extremely late," Graul said. "The management of my time [is the most difficult part], especially when I have multiple tests to study for at one time."
English teacher Lisa Prejean recognizes the qualities that make Graul a star student.
"He's responsible, he always has his work, he participates in class and he focuses on the fact that academics are important," Prejean said.
Sometimes, the lessons learned in school and the ones learned in band and football overlap and benefit Graul and those around him.
"Lance takes great pride in his academic prowess and I think it carries over into other areas in his life, including football," Jesurun said. "He is very steady under pressure and always seems to be able to apply what he has learned whether in the academic or athletic fields."
Prejean agrees that his determination influences all areas of his life.
"He learns that through practice, he gets better. He realizes that it may take several tries before you get it exactly right," Prejean said. "I think in athletics it's the same thing. A play doesn't always run correctly the first time you do it."
In the future, Graul hopes to use his skills and determination to major in bioengineering in college, and then go on to medical school.
"In the future I see Lance as a young man who will make a great impact on society," Jesurun said. "Some day soon we will all proudly say 'Lance Graul is from Bryan'."
Your donation will support the student journalists of Bryan High School. Your contribution will allow us to purchase equipment and cover our annual website hosting costs.