Journalist wins top honors at state meet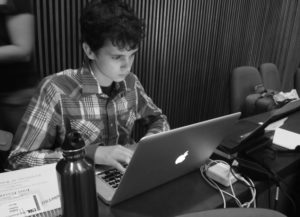 On Thursday, May 5, junior John Fuller attended the UIL State Academic Meet in Austin.
He competed in both news writing and editorial writing after advancing from region competition in Waco with a 1st place finish in news and 2nd place finish in editorial.
The state competition pits the top twelve competitors against each other to vie for top honors in Texas journalism.
Fuller earned a 1st place finish in editorial writing, placing him as the top editorial writer.
He also finished in 3rd place for the news writing event.
The combination of points for those two finishes also earned the BHS journalism program the 1st place team award for state, following a 1st place team finish at region.
Fuller's first trip to the state meet proved successful, but the team is already looking to next year's competition for improvement.
"I think we have a real chance to return to the state meet next year with additional writers and repeat as the number one journalism team," UIL coordinator and journalism coach Rebecca Dominy said.
The UIL program is always looking for additional members and students with strengths across all academic areas are encouraged to join.
Students interested in joining can contact Rebecca Dominy in room 6160 for more details.