Testing the water: Cook competes at Olympic Trials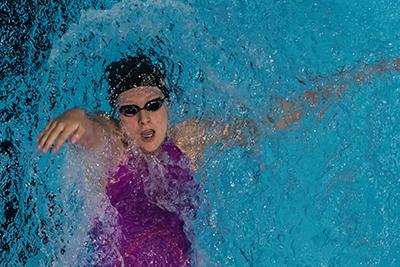 As the swimmers walk out and take the plunge into the pool the crowd goes silent. Each swimmer positions themselves as the officials calls for them to take their mark. A single beep sounds and cheers explode from the stands as the swimmers explode off the walls. So many thoughts and emotions were filling junior Julia Cook's head as she stood on the swimmer's block staring down at the water. For Julia, everything was on the line. Competing in the 2016 Olympic trials in Omaha, Nebraska in both the 100 and 200 meter backstroke set the stage for college and a potential future as Olympic swimmer.
Julia's swimming career started when she was nine years old, after watching the 2008 Beijing Olympics. Starting as a fourth grader, Julia transformed herself into an athlete strong enough to compete against world renowned swimmers.
"Getting to this level took many hours in the pool," Julia said. "I missed a lot of school when I found out I was going to be competing at the trials, and I had to make things up constantly, but I managed it pretty well. My family was there through it all; we didn't lose touch when I began training."
Competing at the Olympic trials was like no other competition she had ever swam in before. The stakes were high, but Julia knew what she needed to do to qualify. One one-hundredth of a second could separate a swimmer from heading to Rio or watching the games from home.
"The intensity of the competition and being around high-caliber athletes was something that is difficult to put into words," Julia said. "Knowing how high the stakes were made all the training and hours spent practicing worthwhile."
Julia is passionate about swimming and has worked hard to get where she is today. However, she did not do it alone. With the support from friends and family, Julia was able to approach the trials knowing that her community supported her.
"My friends were super supportive and excited for me," Julia said. "They watched me online, and even though I was across the country, it was like they were right there with me. One of my friends, Cat Darnell, actually came to Omaha and surprised me, which really meant a lot."
The stress of the trials were lessened when Julia learned Cat was cheering her on from the stands. It gave her a bit of comfort knowing one of her best friends were pulling for her in the midst of the chaos.
"I was super excited to see Julia achieve her goals," Cat said. "She worked hard and I loved getting to see her be successful."
In addition to the support received from her friends and family, Julia also had a former Olympic athlete on her side. Henry Clark has coached Julia for three years and has watched her grow as an athlete.
"I swam at the Olympic Trials in 1988, so was there as an athlete," Clark said. "This time, I went as a coach which was a much different experience."
Clark has witnessed Julia's achievements while pushing her when she felt that her times weren't competitive enough.
"Competing at high level competitions such as the Olympic Trials has allowed Julia's confidence to grow," Clark said. "She stood toe-to-toe with the best swimmers in the country, and she beat a whole lot of them. She's also seen the positive results of working on different aspects of her strokes and race strategies in practice. In general, she's become a more mature athlete over the past year."
Being in an Olympic stadium was a whole new atmosphere for Julia. Seeing 20,000 people in the stands is something that many professional swimmers struggle with and was something Julia had never been exposed to.
"Being around professional athletes that are making millions of dollars a year versus me, who hasn't even gotten out of high school yet, was a whole new experience," Julia said. "It was surreal to be swimming with the so called 'star swimmers'. It put a lot of pressure on me. For the most part, it opened my eyes to swimming, and I realized that I am in the same arena as them. It showed me that I deserved to be there just as much as they do."
Not only was the arena different for Julia, but the way people treated her there was new for her.
"There were many accommodations for swimmers," Julia said. "We got things like free massages and smoothies. At normal swim meets it's more low key. You just swim your events and go with the flow, but at trials, they give everything to you."
Almost every athlete has a pre-game ritual, this is no different for Julia. While Michael Phelps listens to music before a race, Tim Tebow shows his commitment to praying before every game.
"I warm up, listen to music, and get myself focused on the race," Julia said. "At normal competitions, I'll look up in the audience and give a thumbs up to my parents, but at the trials, there were so many people in the stands, I didn't even try to find them."
The Olympic trials are said to be more demanding than the Olympic games because of the amount pressure put on swimmers to succeed.
"Top swimmers will say that this meet is more difficult than the Olympics itself since only the top two that place in each event at the trials make the US Olympic team," Clark said.
Though Julia did not advance to Rio this year, she gained experience and an understanding of how the Olympic trials work. Now Julia is training again as she prepares for the 2020 trials and a potential trip to Tokyo.
"I will be in college by the time the 2020 Olympics come around in Tokyo," Julia said. "My training methods depend on what college I go to and what their training styles are like. I'm really close to qualifying in other events, so hopefully my next trials will be more successful because I will have more knowledge on what to expect."
Her ability to set her goals high and know what she wants to achieve in her swimming career has made her stronger in many aspects. Being a high school student and competing in the Olympic trials is something not many people get to experience.
"Julia has a natural feel for the water," Clark said. "She moves through the water quickly and efficiently, but makes it look so easy. Most importantly, she's committed. She loves the sport of swimming and has the desire to be the very best that she can be every day."
Your donation will support the student journalists of Bryan High School. Your contribution will allow us to purchase equipment and cover our annual website hosting costs.