Principal Lane Buban's Home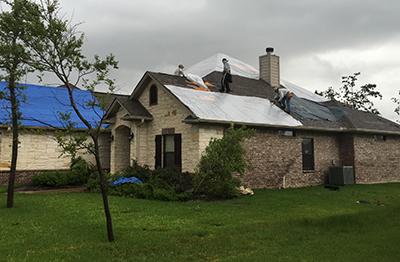 Roofers work to cover principal Lane Buban's home in tarps to prevent more rain damage.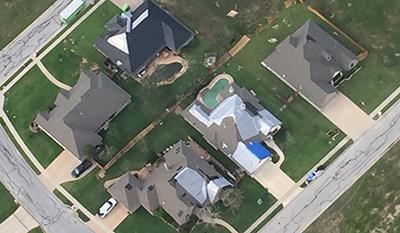 Aerial shot of Buban's home with a majority of the roof covered in tarps.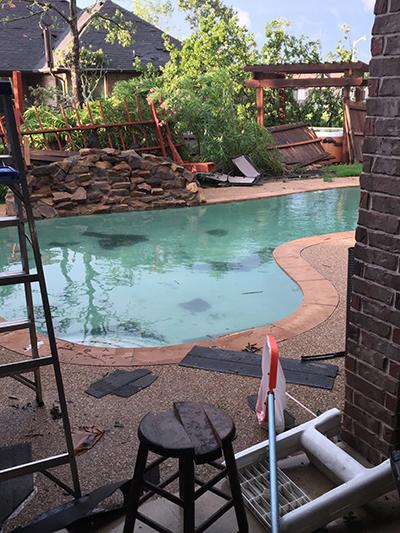 Both pictures above show the damage the tornado caused in Buban's backyard.
Five-hundred students sat at lunch surrounded by sixty feet of glass as a tornado touched down less than a mile away. There was no time to panic as administrators moved to shelter in locations around the school. That was the job entrusted to principal Lane Buban as the tornado moved away from the high school and toward his home.
On Thursday, May 26 classrooms were interrupted by a category one tornado that touched down close to the corner of Highway 6 and Briarcrest Drive and then made its way through the Tiffany Park and Wheeler Ridge subdivisions before ending its path of destruction in Miramont. The path was about 50 feet wide with a path length of 1.9 miles, and was on the ground for approximately five minutes, leaving 153 homes damaged in its wake. Although Buban's home sustained severe damage from the tornado, the community rallied around him and other families in the neighborhood, so by the start of the 2016-2017 school year, many were able to return to their homes.
"I don't remember thinking anything other than making sure that everyone in the school was where they were supposed to be," Buban said. "I wanted to make sure that everyone was safe and that everybody from upstairs got downstairs to the first floor and in the interior rooms. My main concern was getting everybody out of the cafeteria and getting them to a safe place in the building [since it was during lunch]."
Schools have disaster plans in place to ensure student safety, but it takes competent administrators to execute the plans appropriately during a time of stress.
"I knew what needed to be done, so I made sure that we followed all of the procedures," Buban said. "After the fact, it can be overwhelming, but at the time my main concern was to make sure we followed all the procedures that are in place and make sure the students were where they need to be and that they're safe."
Many parents came to the school to pick-up their students, but the school was still in lockdown procedures and conditions were still dangerous.
"Bryan High is a pretty safe place to be during a tornado," Buban said. "The roof and some of the windows may be damaged, but the interior parts of the building are probably the safest place to be because the school is better built than a house."
Buban's fourteen-year-old son Charlie arrived home right after the tornado hit and called his father to let him know that the house was damaged and that there was water coming in.
"I was scared and didn't know what to do," Charlie said. "It was really loud and there was a big black cloud going through the neighborhood and our house was damaged."
Since Buban knew that Charlie was safe, it allowed him to focus his energy on keeping the students at Bryan High safe as well.
"I just blocked out knowing my house was being hit out of my mind," Buban said. "There was nothing I could do about it at the time. I couldn't leave. I wasn't going to leave. I just said to myself, 'I'll deal with that when I can, I've got to take care of this first and then I'll deal with the house when I get home or later'."
Buban didn't arrive home until after 7:30 pm, having made sure all BHS students got home safely first.
"I stayed up here to make sure all the kids who didn't have a ride got home," Buban said. "We took some kids to their houses because their grandparents or their parents couldn't come and pick them up. Once we made sure everybody was home, then I went home too."
The tornado ripped all the shingles off one side, damaged some of the decking on the roof underneath the shingles, and lifted the entire roof and shifted it about a quarter of an inch causing a lot of water damage inside the house. Because of this, the Buban's also lost all of their furniture, beds, carpet, and some electronic equipment. Everything in the backyard was a mess too. There had been a shed in the backyard, but it was no longer there and no pieces of it could be found. Other things in the backyard including a lawnmower, edger, and other equipment were found next door in a neighbor's pool.
"[Seeing my house for the first time] was a little bit shocking because you never expect for something like that to happen," Buban said. "Our house was damaged, but I drove by some houses that were damaged way worse than ours, so I felt fortunate."
Many residents in the Wheeler Ridge and Tiffany Park subdivision had difficulty getting home because of the flooding, including Buban's daughter, junior Natalie Buban.
"I tried to get into all the entrances, but they were all closed, so I just went to Koppe Bridge and stayed there until we heard there was an entrance open," Natalie Buban said. "It was really weird because it looked like it was raining on the inside of our house. I was freaking out because I didn't know what was going to happen next."
As people were able to return to their homes, they started making temporary repairs and salvaging whatever they could save until the next day when things could be better assessed in the daylight. Buban was touched that so many faculty members and students showed up to help, but admitted it was difficult to be on the receiving end of the help.
"We started trying to cover up or try to remove all of our pictures and stuff that we could get out of the house," Buban said. "I take care of things on my own. I do it and get it done, but it's hard to step back and let others help me. So when all of those people started showing up to help, I didn't know what to do because part of me was just like 'go away and let me deal with it', but I couldn't do that, I had to let people help and that's hard for me."
Buban believes that his family and the community have bonded through the experience and demonstrated how people will always be there for each other.
"As far as family goes, we are a lot more grateful for what we have than we were before," Buban said. "As far as other people are concerned, it just showed me the people in Bryan are willing to go the extra mile to help each other out and that was pretty cool."
The community didn't stop reaching out after the cleanup was done, but instead continued to provide whatever they could to help.
"The DeNena family allowed us to live in their house on their property for almost two months while our house was being rebuilt," Buban said. "Their generosity helped us quite a bit because we had a house to live in."
Buban said his perspective has changed on a lot of things because of the events that took place.
"I don't take things around me for granted anymore," Buban said. "I don't take people for granted. You don't truly know about people until you go through something like this and all these people want to help. That part was eye opening. There are a lot of kids on this campus that showed up to help cleanup and help get our lives back in order."
Buban's daughter echos the sentiments of her dad as she is thankful for the help the community provided and the way everyone came together during a time of disaster.
"I'm just blessed to say I have a house," Natalie said. "This was a freak tornado, and our house was damaged, but some people have to deal with these things more often and it's much worse."
The Bubans are not alone in their rebuilding as many other faculty members and students were also impacted by the tornado, including junior Exia Isaiz's family.
"[When I heard of the tornado heading towards my house], I started freaking out," Exia said. "I started texting my parents and nobody answered."
Exia couldn't get her mom on the phone because she was putting tarps on the house and her phone got damaged. Exia's friends took her to their house until she was able to make contact with her parents and go to a hotel.
"I didn't see my house for three days," Exia said. "My mom and dad didn't want me to see the house because they thought it would be too emotional. I'm not really a crier and didn't think I would, but when we turned onto the road and I saw that everything was gone on the whole road, I started bawling."
The house was damaged extensively including half the roof being blown off, the chimney falling on a neighbor's house, one of the walls being destroyed, and everything flooded.
"My dad was home and he was in the shower and the roof came off," Exia said. "My dad was lucky to survive, and I'm thankful that he was okay."
Being displaced from their home, Exia's family has been forced to adjust their daily living as they work to put their lives back together.
"I stayed in a hotel for two weeks, and now we are in a rental house," Exia said. "Things have been really hard. My mom is stressed and I have four dogs and the rental house is so small and everything is chaotic. Some stuff is in a storage unit, most of my clothes got ruined, and there's other stuff we don't even know where it went."
Exia's thoughts resonate with Buban as he his grateful no one was severely injured during the ordeal as the weather and conditions around the state had proved deadly in some cases.
"I don't think I ever really had any strong ties to anything we lost, it was all just stuff," Buban said. "Ultimately, I was just glad nobody got hurt. Whether that be in my house or the houses in the path of the tornado – the stuff can be replaced."