Student learns life lessons through volleyball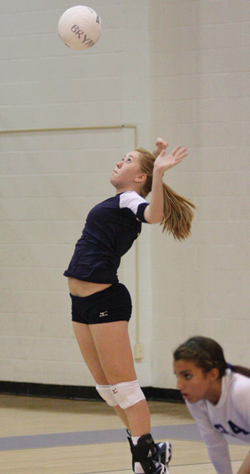 Determination is an important value on and off the court, and one student who possesses that ability is senior volleyball player Alyssa Micheletti.
Micheletti has been on the volleyball team since her freshman year, and she says the sport plays a significant role in her life.
"It's a huge part of my time," Micheletti said. "Everyday practice goes until 5:30, and then we have games. When we have home games we finish about 8:30. With away games, we sometimes don't get home until 11 or 12."
Although volleyball takes up a lot of time, for Micheletti, the pros outweigh the cons. Volleyball helps keep Micheletti in shape and helps her maintain healthy relationships with her teammates.
"Being part of a team is great," Micheletti said. "Everyone is really devoted to the team."
While Micheletti may benefit from the team, the team also benefits from her.
"She's a really good player," junior Abbey Cullen said. "She's really smart. Since she's a senior, she has a better knowledge of the game than a lot of players do."
The players are not the only people who notice this drive in Micheletti. Volleyball coach Caroline Simpson said she sees a lot of good qualities in her.
"I always see drive [in her]," Simpson said.  "Watching her grow up with volleyball as her main sport has made her work hard and she tries to fix things and correct herself when she makes mistakes."
When it comes to getting her game face on, Micheletti is always on top of things.
"You get the same kid everyday with Alyssa," Simpson said. "You're not going to get the ups and downs on the court, which is what I really like in a kid. You don't have to worry about her."
As for drive, Micheletti is also very active in the classroom. Many of her teachers notice her desire to excel in academics as much as her desire to do well in sports.
"Alyssa has good work ethic," history teacher Chad Cryer said. "She is disciplined, and insightful, and is always willing to voice her opinion."
When it comes down to it, Micheletti says she has gained a lot from volleyball, and thinks that learning to balance her time has been the most rewarding of it all.
"Knowing that it's hard to balance school work and being in volleyball [is very rewarding]," Micheletti said. "But it feels like an accomplishment knowing you are keeping up when you have so much to do. And winning is fun too."
Leave a Comment
Your donation will support the student journalists of Bryan High School. Your contribution will allow us to purchase equipment and cover our annual website hosting costs.