Fun pastime turned competitive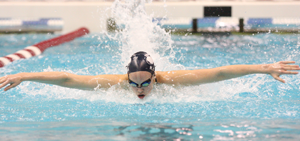 Most people who find themselves splashing in the water do it to pass the time in the hot Texas summer, but some take this pastime to a competitive level. Senior Haley Clark is an example of this. Not only is she a competitive swimmer on campus, but she is also ranked as one of the top five swimmers in the state and one of the top one hundred swimmers in the nation.
As with every high achievement, there is a great journey to get there, and starting to swim at an early age is just the beginning of that journey for Clark.
"I actually wasn't supposed to swim because my parents were swimmers all the way through college, and they wanted me to try something else," Clark said. "But by the time I was six, I was unable to stay away from the pool and was already learning how to swim, and by the time I was ten I started swimming competitively."
Since those early swimming years, Clark has shown improvement to ensure she made her way to the top of the charts in the state. Swimming coach Gina Rodriguez has seen Clark's improvement throughout the course of her high school career through the different aspects of swimming.
"Throughout high school, she has continued to improve her stroke and has dropped her times in her butterfly and backstroke," Rodriguez said.
Beyond the improvement Clark's coach has witnessed lies a lot of practice and determination that Clark strives to pursue. Leading up to her swim meets, Clark spends a lot of time to make sure she performs at her full potential.
"It definitely took a lot of improvement and confidence in my swimming before the hard work set in," Clark said. "I had to perfect my strokes and technique in order for their to be an increase in hard work."
Other than Clark's swimming ability, she also contributes to the team with her personality and her capability to make sure everyone around her smiles.
"She helps us see the bright side of every race, even when we don't do well she cheers us up and tells us we're going to do better next time," swim team member Alex Manzano said.
Clark also brings her talent into the classroom. Even though maintaining good grades and holding a spot as a state-ranked swimmer may seem like an unmanageable task, Clark proves otherwise.
"Sometimes school can be a little overbearing, but I am really good at getting my studying done before and after practice," Clark said. "You just have to learn how to make a schedule that works for you; that way you don't get behind in your academics or swimming."
With the combination of Clark's swimming and her grades, Clark has received offers from various universities.
"Right now, it's in the running between A&M, Ohio University, and Indiana, and I am hoping to have my decision made final in a couple of days, but most importantly when I was looking at schools I was looking for a team that was a family and had a great coaching staff and excellent academics," Clark said.
Although Clark plans to pursue her swimming in college, she plans to continue swimming in other avenues as well.
"Not only is her goal to compete in the collegiate level for a Division 1 school, but she has hopes to compete in the Olympic trials," Rodriguez said.
Even though Clark has already come so far in her swimming career, she still has a long journey ahead of her.
"It feels awesome to be swimming next to a state ranked swimmer," Manzano said.
Your donation will support the student journalists of Bryan High School. Your contribution will allow us to purchase equipment and cover our annual website hosting costs.